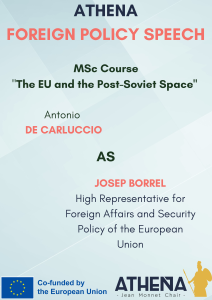 This "Foreign Policy Speech" by Antonio de Carluccio can be accessed here.
It was originally written for the ATHENA Jean Monnet Chair MSc Course "The EU and the Post-Soviet Space" taught by Dr. Olga Burlyuk. It is published as part of our mission to showcase peer-leading papers written by students during their studies. This work can be used for background reading and research, but should not be cited as an expert source or used in place of scholarly articles/books.
Context
This speech is set in an alternative timeline: the missile that crossed into the Polish village of Przewodow and killed two people on 15th November 2022 was found to be Russian-made and fired from Russia. Despite the firm denial of the Russian defence ministry, NATO's analysis believes it was intended as an attack to test the West's response to a potential escalation. Poland has triggered Article 4 of NATO, beginning close consultations with NATO members to decide the appropriate response. As a result, NATO has decided to considerably augment Poland's air defence and Ukraine's air defence as well, though avoiding an all-out war or direct nuclear confrontation. I impersonate Josep Borell, the High Representative for Foreign Affairs and Security Policy of the European Union, in giving an unprecedented speech at the UN Security Council in New York on November 18th 2022 (three days after the missile explosion). All 15 Security Council members are present, including Russia, which is represented by Vasily Nebenzya, the Permanent Representative of the Russian Federation to the United Nations.
Further details
I was inspired by some of the speeches already held by Borrell at the UN
Security Council in September. The phrase "a chemically pure attack on the United Nations
Charter" is a direct quote. This is the link: https://www.eeas.europa.eu/eeas/ukraine-speech-high-representative-josep-borrell-un-security-council_en.
In addition: https://www.euronews.com/my-europe/2022/10/13/the-russian-army-will-be-annihilated-if-it-launches-a-nuclear-attack-warns-josep-borrell.