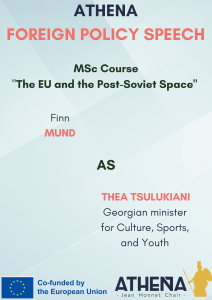 This "Foreign Policy Speech" by Finn Mund can be accessed here.
It was originally written for the ATHENA Jean Monnet Chair MSc Course "The EU and the Post-Soviet Space" taught by Dr. Olga Burlyuk. It is published as part of our mission to showcase peer-leading papers written by students during their studies. This work can be used for background reading and research, but should not be cited as an expert source or used in place of scholarly articles/books.
Context
This speech is held by Thea Tsulukiani, the Georgian minister of culture, sports, and youth in front of the other ministers and Irakli Garibashvili, the prime minister of Georgia. The reason for her speech is that the ministers were asked to put forward strategies to improve Georgia's reputation, to forge new alliances, and to polish its international standings. It takes place in June 2023, in the capital of Georgia, Tbilisi.