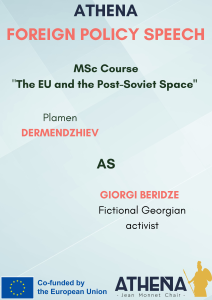 This "Foreign Policy Speech" by Plamen Dermendzhiev can be accessed here.
It was originally written for the ATHENA Jean Monnet Chair MSc Course "The EU and the Post-Soviet Space" taught by Dr. Olga Burlyuk. It is published as part of our mission to showcase peer-leading papers written by students during their studies. This work can be used for background reading and research, but should not be cited as an expert source or used in place of scholarly articles/books.
Context
The following speech is delivered by a fictional civil activist – Giorgi Beridze, one of the most recognizable faces of the summer protest events following the European Commission's rejection to grant Georgia candidate status on June 17, 2022. The speech is given during one of the protests and is directly addressing EU diplomats, days before the annual EU-Georgia Association Council in September 2022, attended by the HR/VP and the Georgian Prime Minister. The goal of the speech, a recording of which will be circulated in online media, is to build pressure on the EU to grant Georgia an official candidate status.